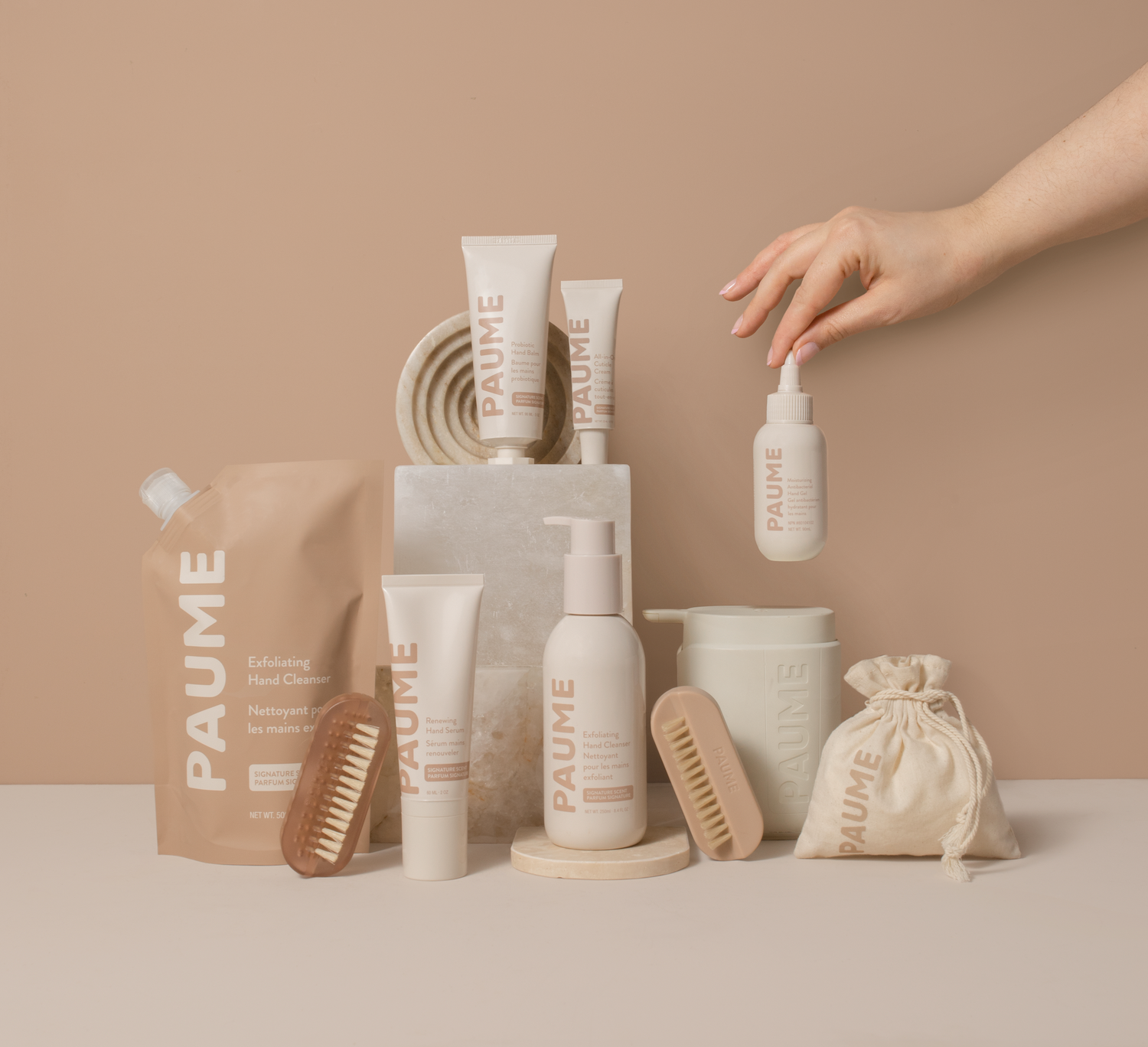 Our Formulas
We believe that what you put on your body is just as important as what you put in it, which is why we have carefully selected each ingredient in our products.
SHOP PAUME
Upgrade your hand care routine:
$109$95
Sanitize Family
Save $14 with this bundle!The ultimate bundle with all you need for clean hands at home and on the go.
$93$85
Sanitize Trio
Save $8 with this bundle! One of each product to keep your hands clean at home and on the go.
$77$68
Sanitize At Home Duo
Save $9 with this bundle! The nursery basics for clean hands at home.
Gentle, nourishing and effective.
Aloe Vera
Hydrates the skin, and vitamins A, B, C, D and E, and minerals like magnesium, potassium, zinc help your skin heal.
Witch Hazel
The twigs and bark of this botanical extract contain therapeutic properties, that clease the skin, working as anatural astringent.
Hydresia G2
A sustainably produced biodegradable emollient derived from safflower oil, that delivers skin nourishing vitamins and enhanced long lasting hydration.
Ethyl Alcohol
A safe and effective way to use 99.99% of harmful bacteria and viruses.
A formula so good, we win awards for it.
Perfect Hand Sani for Baby Change Table
I saw this product as an ad on Instagram- at first the price I was skeptical — how could hand sanitizer be so much. But when you use it every day and after every diaper change before and after… and your hands are in tact, moisturizer and smell nice… it's worth it. Not to mention it looks cute on the change table. Highly recommend product for new mamas!
Nice smell and fast drying.
Love the product. Love the soft scent and the fact it dries so fast and doesn't leave my hands sticky! Also love I can use it on little ones hands:)
Didn't disappoint!
I've had my eye on this for awhile and lives up to the hype. Happy to have such a cute container for my diaper station now too!
Makes diaper changes a breeze when handwashing isn't readily avail.
I love the sleek design and used it for our diaper change areas with our new baby boy. He rarely likes to be put down and when changing him before feeding him, this helps me feel better about lowering the risk of spreading any bacteria when we can't easily wash our hands right away.
Smells amazing and gentle.
I developed eczema using Purell. This gel does not irritate my hands and leave them soft and hydrated. It also smells amazing.